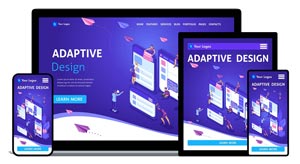 Mobile websites are optimized for viewing on smaller screens such as smart phones and tablets. Due to small viewable area, and lack of download speed, mobile websites are optimized with simplicity and faster download time. With the rapid surge in the sale of mobile and hand held devices worldwide, there is no doubt that the mobile content is going to be the next big thing with the mobile phone users. Already companies are paying more than $100,000 for .mobi domains (Flowers.mobi sold for $200,000) indicating huge potential for this medium. However, the challenge is that a vast number of sites need to be re-developed and customized specifically for portable devices.
We have the technology and skills to deliver online content onto mobile devices. We can optimize your existing website for mobile devices.
Is Your Website Optimized For Mobile Devices?
Mobile users tend to navigate away from websites that are difficult to use and will go to the competition. Mobile web searches shows a desire to take immediate action. These websites are much easier to handle: No installation, server-side updates, browser as single access point and, based on the right software platform, you need to create and manage only one website for all devices. Mobile sites can be used by anyone from bouquet shop owners at the street corner to students who want to publish their resume to all kinds of businesses ranging from small to large.

Websites owners are now converting their sites, or providing a mobile option for the mobile phone user wanting to get access to information right on their phone. Most of the designers know that the industry involves plenty of change, and continuous adaption and development of skills is required in order to stay up to date. Website owners with a large audience have already seen the benefits of having a mobile platform service their users.
PC Website vs Mobile Website
PC websites are often quite different from mobile websites, some businesses often find themselves in shock when having to find out that their website cannot be accessed in the most widely used gadget of today.
Unlike PC websites, mobile websites must have lesser loads of photos and videos to prevent a longer duration of time for the website to be downloaded on the mobile phone. Photos that go with the website should be smaller than that of regular photos you upload to PC websites. Viewers are not that patient when it comes to viewing your product so you have to make sure that accessing your website in a mobile phone will be fast. Navigation is also one of the things that need to be considered in mobile websites, mobile phones have limited keys and icons to choose from so you have to make sure that it is easy to make your way around the site. Information about your product should be brief and concise, packing in important information in the shortest description possible for the viewer to easily grab the idea that you're trying to get through.
Mobile phones have a variety of uses today and it remains to be the target of many advertisers as it is the most effective tool to aid them in product promotion. Aside from Bluetooth and SMS campaigns, mobile websites come as a handy marketing strategy that reaches possible clients anywhere in the world.
Having a mobile website in addition to your PC accessible website will create an added number of prospective clients and patrons.
Contact us for advise and how we can help you with your Mobile Web prescence.